BAE Systems and KMWE sign MoU which will boost the aerospace sector in Malaysia
BAE Systems and Aerospace supplier KMWE are delighted to announce the signing of a Memorandum of Understanding (MoU) which will boost the aerospace sector in Malaysia. The signing was witnessed by the Dutch Ambassador to Malaysia and representatives of the Ministry of Economic Affairs.
The MoU will enable the development of new aerospace manufacturing capabilities in Malaysia which will both enhance the existing sector and enable deeper integration of capabilities within the Malaysian aerospace supply-chain.
"Building capacity and capability in markets that are important to our customers is part of our ongoing strategy to develop and grow our business.  We are aware of the history of BAE Systems in Malaysia, which makes their support invaluable."  Said Edward Voncken, CEO of KMWE Group.
KMWE has opened a precision manufacturing facility in Penang, Malaysia which has recently passed its aerospace AS9100 quality audit. Over 175 staff are currently employed at the Penang facility.  By working closely with BAE Systems and its partners within the Eurofighter Typhoon consortium, KMWE believes that the activities performed under the MoU will help to achieve its vision – to double its production capacity in Malaysia within the next 5 years.
John Rossall, Head of Industrialisation Asia-Pacific & Europe BAE Systems Military Aircraft and Information, said: "BAE Systems has a strong history of involvement in the Malaysian aerospace sector, working with  world-class Malaysian aerospace companies.  Malaysia and the wider Asia-Pacific region are very important markets for us and working with KMWE will help to develop our capability in the region and that of our  partners in the Eurofighter Typhoon Programme."  added.
The KMWE facility in Penang will manufacture military and civil aircraft components that will be exported either as part of a Malaysian supply-chain assembled aircraft structure or direct to an aircraft original equipment manufacturer.    
About BAE Systems:
They provide some of the world's most advanced, technology-led defence, aerospace and security solutions and employ a skilled workforce of some 83,400 people in over 40 countries. Working with customers and local partners, they develop, engineer, manufacture and support products and systems to deliver military capability, protect national security and people and keep critical information and infrastructure secure.
About KMWE / DutchAero:
KMWE / DutchAero is a supplier and partner for the High Tech Equipment Industry for over 60 years and is a dedicated supplier to the aerospace industry since 1965. The company employs over 500 highly skilled staff in its facilities world-wide, with its Head-office in Eindhoven, the Netherlands.
Core aerospace capabilities include manufacturing of aero-engine and airframe machined parts and complex fabrications. KMWE / DutchAero has the next generation of fully automated production cells for complex machining and also offers a one-stop-shop capability for complex sheet metal fabrications with an extensive capability in thermal spray coatings, supported by a fully equipped metallurgical laboratory and experience in additive manufacturing. Since February 2014 DutchAero is part of the KMWE Group.
KMWE Malaysia, based in Penang, is manufacturer of high tech systems assemblies and metal components manufacturing, with clean rooms, milling and sheet metal capabilities. For manufacturing of Airframe metal structures KWME Malaysia has state-of-the art milling machines.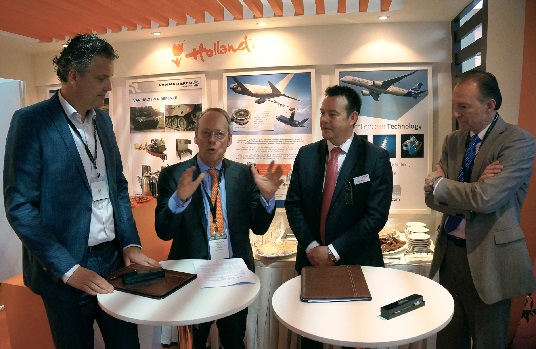 Signing ceremony attended by (from left to right) Edward Voncken (CEO KMWE), Harry Molenaar (former Dutch ambassador in Malaysia), John Rossall (Head Industrialisation Asia -Pacific & Europe BAE Systems Military Aircraft) and Pieter Taal (Ministry of Economic Affairs)