Chinese aerospace delegation in the Netherlands
Last week, 6th – 8th of June, a Chinese aerospace delegation visited the Netherlands for a government-to-government dialogue and meetings between industry experts. The visit was part of a formalized cooperation, based on a Memorandum of Understanding, between China and the Netherlands in the field of aviation that has been running since 2015.
The experts discussed proposals for joint projects, as follow up of previous meetings in China. At government level, it was discussed how such a cooperation can be supported.
Visits were made to Fokker Technologies, NLR, Delft University of Technology, DNW, KLM, Additive Industries and Technobis. The visit of the Chinese delegation presented the opportunity to investigate new possibilities on structural health monitoring, 3D printing, ATM and airport development.
The NAG is the secretary of a group of Dutch companies and research institutes (ADSE, DNW, GKN Fokker, NLR, TU Delft and TenCate) who jointly shaped the cooperation with the aid of the governmental Partners in International Business (PIB).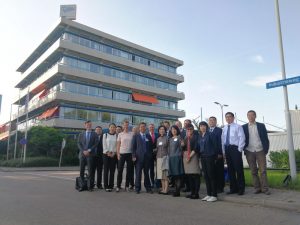 The program was organized by the Innovation Attaché of the Embassy Network in China, in collaboration with the NAG.