First Starburst Selection Committee event in The Netherlands, where 10 Aerospace start-ups successfully pitched.
On November 13, 2017 – Starburst, the world's largest accelerator for aerospace and defence startups organised its first Selection Committee event in Delft, the Netherlands, connecting corporates and investors with high potential startups from the Netherlands and abroad.
Starburst is the number 1 worldwide accelerator for aerospace and defence businesses, dedicated to creating business opportunities between innovative startups and blue chip corporate partners from the industry.
Access to International Aerospace Corporates
In an interactive setting in the Auditorium of tech incubator YES!Delft, ten selected startups and scale-ups had the opportunity to present their business to an audience of around a 100 professionals from the industry, amongst them many representatives of larger aviation, aerospace and defence companies and several venture capitalists and business angels.
The 10 pitching companies included:
• Aiir Innovations (Amsterdam, NL) – https://aiir.nl/
• T4Innovation (Padova, Italy) – http://www.t4innovation.com/ 
• Skel- Ex (Rotterdam, NL) – http://www.skel-ex.com/
• selko.io (Helsinki, Finland) – http://selko.io/
• Fiberneering (Zwolle, NL) – http://www.fiberneering.com/
• Dawn Aerospace (Delft, NL) – https://dawnaerospace.com/
• Robin Radar (The Hague, NL)- https://www.robinradar.com/
• IMSystems (Delft, NL) – https://imsystems.nl/
• Decanter (Taipei, Taiwan) – https://mobagel.com
• Optics11 (Amsterdam, NL) – https://optics11.com/
"We are glad to present our pitching event in the Netherlands for the first time in our 5 years of existence, following successful events in various metropoles such as Singapore, San Francisco, Montreal and London," says founder and CEO Francois Chopard. "Out of the ten companies, seven were from the Netherlands, giving the corporate partners a good and diverse insight into the possibilities of cooperating with the Dutch aerospace cluster."
Starburst was invited by the national trade association NAG, InnovationQuarter, the Province of Zuid-Holland and the City of Delft. Deputy mayor Ferrie Förster, congratulated the Paris-based organisation with their first event in the Netherlands and hopes this occasion will be the first of many to come: "We hope Starburst will eventually decide to establish a more permanent base within the Delft  ecosystem", Förster admitted: "the concept, which provides start-ups with an opportunity to get introduced to large corporates, will inspire a new generation of innovators from this particular cluster."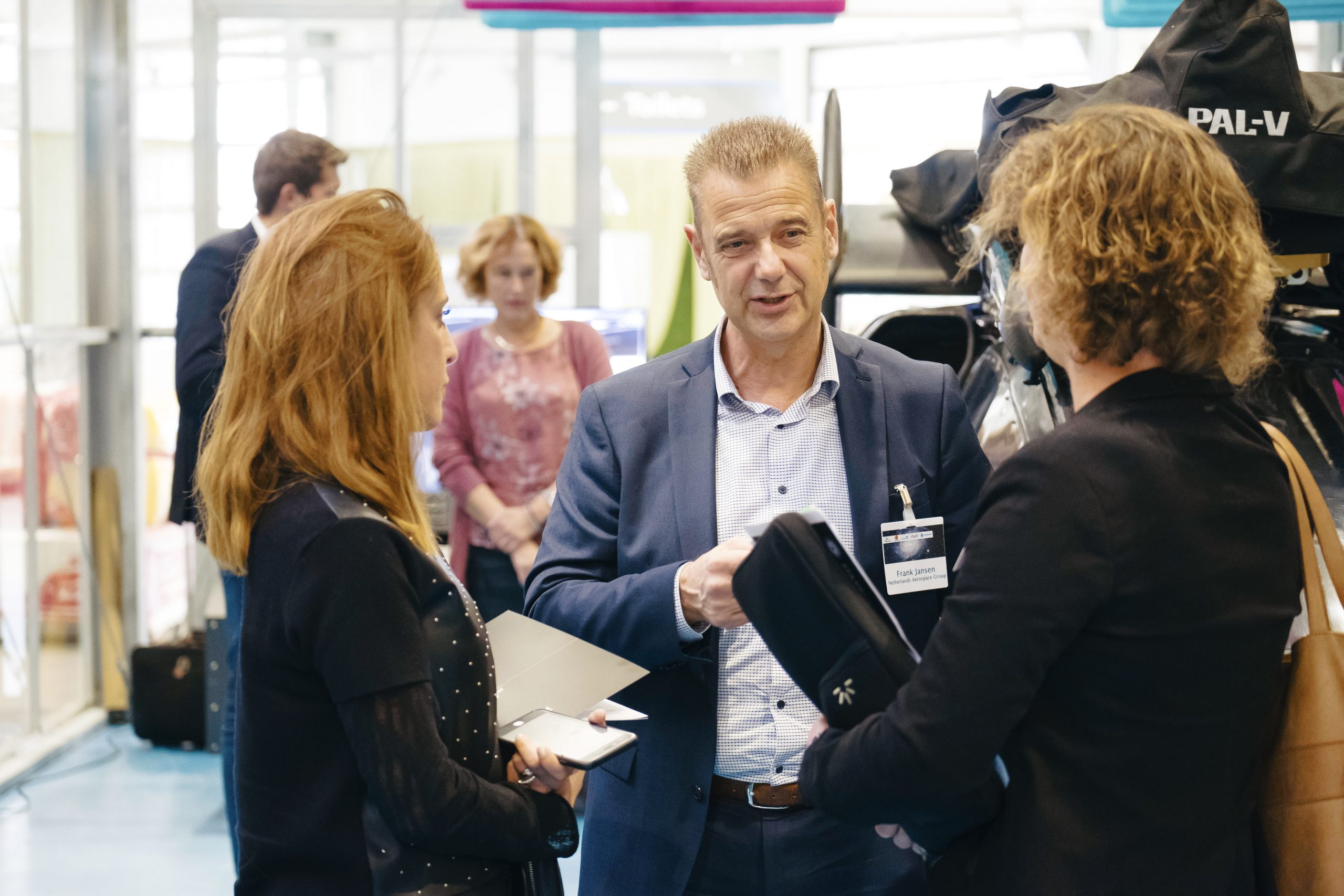 The current ecosystem of Starburst counts 2500+ startups globally, covering the widest range of aerospace applications combined with a non-exhaustive list of corporate partners like Thalès, Boeing and Safran. "We're glad to see these international partners present and actively interacting with representatives from the Dutch ecosystem", says Frank Jansen, director of NAG, the Dutch trade association for Aerospace and Airport Development. Jansen has been in touch with the organisation for several years and planned the conclusive meeting during the Paris Air Show last June, in which all organizing partners committed to establish the first Starburst Selection Committee event in the Netherlands.
The Starburst committee selected 3 international startups, amongst which Decanter from Taiwan, as well as 7 companies from the Netherlands. Deputy Minister for Economic Affairs, Ms. Adri Bom-Lemstra is proud to see that four of the Dutch startups originate in the Province of Zuid-Holland: "Inspiring to see all of these state-of-the-art innovations and concepts from this region", she says, while trying on SkelEx's exoskeleton-suit, which makes handling heavy parts or luggage, light and easy, "You really notice the excitement of the corporates here on the exhibition floor when they talk to all these smart entrepreneurs from our region; I am convinced this event was also a good 'pitch' for our province, demonstrating to the international aerospace cluster that we are a true innovation hotspot!"
Photocredits: Remco Zwinkels
For more information about the Starburst concept please visit: http://starburst.aero/.