HOPE Technik and Stratagem Group Collaboration Agreement Signing Ceremony
HOPE Technik has signed a collaboration agreement with Stratagem Group on behalf of ICRIT Consortium, setting the path to explore and develop new technology for the maintenance sector.
With the agreement, both companies seek to embark on a new frontier, exchanging innovations and strengthening relationships across borders. The agreement was signed in September 2016 at the Hope Technik Office in Singapore in the presence of representatives from the Dutch Ministery of Economic Affairs, mr. Jasper Wesseling (Director Innovation and Knowledge), Mr. Paul van IJsselstein (Stratagem on behalf of ICRIT) and mr. Chee Meng Lim (Hope Technik Director).
This agreement completes the 3rd phase in the Implementation of the Global ICRIT infrastructure. The 1st phase included the ICRIT teaming agreement with the partners in the Netherlands followed by the 2nd phase with the signing of the MOU with AirMod in Brazil. The next phase will include the Middle East.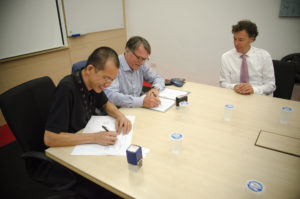 source: ICTIR