Looking back: General Members Assembly December 6, 2018
At the NAG we are happy to have such involved and active members. With a special thanks to our host Technobis for welcoming us so warmly on the 6th of December. They put in a lot of effort to organize the location with well-kept catering. Thanks to that, we were able to welcome around 85 people during this day!
We started our assembly with a tasty and extensive lunch. Our members were able to catch up during the lunch, meet the NAG team and look around the new canteen of Technobis. At 12.30 we started with the official General Assembly, welcomed by René van Doorn (chairman of the Board) and further led by Frank Jansen (Managing Director).
Several subjects regarding our members and activities were discussed, such as the new members who joined the NAG, finances and the replacement in the board.
After the official Assembly we welcomed more guests, among whom were potential members and the speakers Marieke Blom (Chief Economist @ ING) and Leon Kanters (Tax Partner @ KPMG Meijburg & Co). They gave a presentation about two subjects: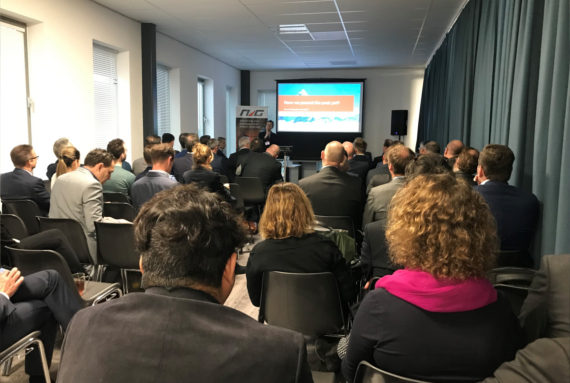 Very interesting insights were given. After these insights, a panel discussion took place with specialists from the sector about "Brexit / trade barriers", led by Mahrijn Visser, Secretary International Economic Affairs at VNO-NCW.
Present in this panel were Hans van Leeuwen, Senior Vice-President Corporate Development at Vanderlande Industries B.V., Arjan Grevengoed, senior program manager Brexit – PCMO at GKN Aerospace,Fernanda Mortiel, International Trade Compliance Manager at UTC Aerospace Systems and Martin Farmer UK Representative NAG.
As host, Technobis gave a presentation about their beautiful company. To stretch our legs after the interesting presentations and the panel discussion, we got a unique look behind the scenes during the guided tour through the facilities of Technobis. They showed once more that the Dutch Aviation Industry acts on a high level. Technobis group provides total customer satisfaction by offering custom solutions, advanced technologies and quality in design, manufacture, services and support. With their unique technology, they are a proud company and we are proud they are a member of our association.
How can you process these impressions better than while enjoying a drink? Time to catch up with other members and to get to know the newly connected members at the NAG. We thank all our members who attended our General Assembly and all others who visited as well!