MRO Europe 2016 by the Dutch
On Wednesday 19th and Thursday 20th of October 2016 the MRO Europe 2016 took place in the RAI, Amsterdam. Besides a busy conference programme there were three exhibition halls filled with 412 international exhibitors which have a focus on the MRO market in Aerospace industry.
The Dutch industry was well represented with 18 Dutch companies who participated at the Holland Pavilion. The following companies were represented.
Before the MRO Europe began the NAG organized a Running Dinner for its members and relations. By boat the group enjoyed a nice dinner while they experienced Amsterdam from the water. This was a very interesting B2B event in a relaxing atmosphere which was a very good start of the MRO week in the Netherlands.
Just like the Farnborough International Airshow the Dutch participation was supported by Holland High Tech to create more exposure for the Dutch industry. Besides creating a bigger pavilion there was a Holland Reception on Tuesday at the pavilion where Amandus Lundqvist from Holland High Tech, gave an interesting encouraging speech to the MRO industry. Furthermore, on site there was a typical Dutch 'stroopwafelbakker' who baked and served delicious poffertjes. His presence resulted in an interesting business flow to the pavilion. This all resulted in two very interesting business days with lots of business talks/ meetings.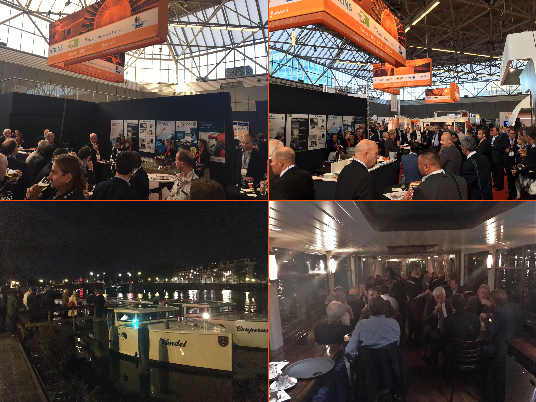 The next MRO Europe will take place on the 3rd until the 5th of October 2017 in London, United Kingdom and the NAG will organize again a Holland Pavilion. If you're interested to participate, please contact Mikel Vogels, Event Manager NAG.