Review on NAG General Assembly at Hogeschool Inholland Delft
On Wednesday, 25th of May the General Assembly of the NAG took place. This time we were guests at Hogeschool Inholland Delft, a not far from the new NAG office in Delft (Molengraaffsingel 10).
General Assembly
We were warmly welcomed with an excellent lunch, after which the General Assembly started. During the formal meeting Frank Jansen, managing director of the NAG, presented a.o. the annual report titled "NAG Highlights 2015", the financial report of 2015 and two new members introduced themselves: Jorge Ramos was present for Embraer Netherlands and Maurice Taks for WFS Pro.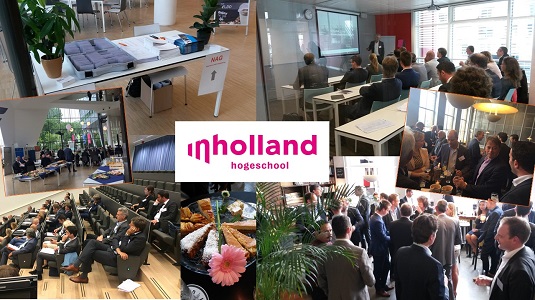 Segment meetings
Airport Development & Infrastructure
Previous editions of the Airport Development & Infrastructure meetings have focussed on building the NAG AD&I community. Various activities have taken place in the last year and the cluster has grown to 30 companies. This years' segment meeting during the NAG General Assembly saw interesting presentations from Maurits Schaafsma (Urban Planner at Schiphol) on Master Plan developments at Schiphol, Sicco Santema with an update on TU Delft's PASSME (passenger experience) project and Bernard de Groot on creating the "Innovation Airport".
Aircraft Maintenance
Jorge Ramos, President for EMEA at Embraer Netherlands gave an overview of Embraer and more specific of the MRO outlook of Embraer. After this presentation the 30 participants of this segment meeting discussed the trends in logistics in MRO. A forum consisting of Aviall (Stef Bijvoet), Kühne Nagel (Erik Goedhart) and Embraer (Jorge Ramos) initiated the discussions. The last item on the agenda was the Holland promotion during the upcoming MRO Europe. A collective action was agreed, an evening program with dinner boat(s) on the canals.
Aircraft Manufacturing
This year's segment meeting have had the goal to raise awareness of change within the Dutch Aerospace supply chain. The participants led a vivid dialog which was opened by two presentations from Willem Kok (NEVAT board member & HEAD) and Peter Zoeteman (Netherlands Maritime Technology) on "Strengthening Dutch competitiveness through shared domestic supply chains". The summarized opinion was that the Dutch Aerospace supply chain is less flexible due to the complex IP policies and certification regulations.
The well attended meeting ended with a nice dinner and drinks in loose setting at Húszar restaurant in Delft, during which there was plenty of time to network.
The NAG wishes to thank Hogeschool Inholland Delft for their pleasant hospitality and the members who were present for their input.
Please reserve the date of the next General Assembly in your calender:
Wednesday 9th of December 2016