Start-ups for a stronger aerospace sector – NAG General Assembly 7 December 2016
On December 7th the NAG General Assembly took place. This year we were hosted by Scarabee Systems & Technology B.V. in Hoofddorp. The theme of this meeting was "start-ups for a stronger aerospace sector"
We started the day with the formal part of the General Assembly. Frank Jansen revised on the year 2016 and looked forward to 2017. Our two new members were introduced, Werner van Eck on behalf of M.E.P. and Michel van Ierland from MVI International.
This year, we also invited start-ups from the aerospace sector. They were settled in the main hall with a table where they could show their products and pitch their idea to our members. During the coffee- and lunchbreaks our members had time to visit them and listen to their ideas. In the afternoon there were three start-ups selected who had the opportunity to pitch in front of all our members.
To boost our theme we invited HRH Prince Constantijn to our meeting. He is the ambassador of start-ups since last July. After the formal part of the meeting and the lunchbreak, Frank interviewed him about his vision on start-ups in the aerospace sector. They talked about the cooperation between start-ups and companies and what they could offer each other. Adding to his story, we had three of our members who presented their experiences with start-ups within their company. We had Coen Swaanenburg from KLM E&M, Fred Verstraaten from Vanderlande and Tjaard Sijpkes form Fokker.
Our host, Scarabee, introduced their company to our members. Sharifa Gessel, manager Public and Political Affairs at Scarabee, presented the company and their products. Next, Nils Beers from Yes!Delft presented the LaunchLab programme, helping start-ups grow their idea into a successful business. The number of start-ups in the aerospace sector is relatively low, so they want to help grow that number  by introducing the Aerospace LaunchLab Programme.
The NAG is supported by the city of Delft to develop its capability to support Start-ups for the benefit of the aerospace and airport sector.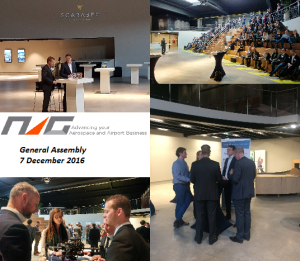 NAG General Assembly – presentation Nils Beers
NAG General Assembly – presentation KLM
NAG General Assembly – presentation Vanderlande
NAG General Assembly – presentation Fokker