Sustainable and Innovative Airport Development (SIAD) in Brazil: First Mission
The first mission from the PIB SIAD took place from 17 – 20 April 2023. The cluster consists of ANSART, Deerns, NACO, SACO, To70, Unified International and Vanderlande. ABB joined the mission as well to explore the options of joining the PIB programme. Together with Marcelo Cantor and the Dutch Diplomatic Network in Brazil, the NAG organized a four day programme to visit a diverse range of airport groups and companies.
Monday was focused on the interactions with the two relevant overarching airport organizations in Brazil: the ABR (Airport Group Brazil) and ACI Brazil (the local branch of the Airport Council International).
On Tuesday the group visited Guarulhos airport for an interesting morning of presentations and exchange of ideas. This lead to some follow up meetings which will happen in the next weeks. After an enervating lunch, with a view of the soccer field at the Morumbi Stadium, the group was recharged to meet with the CCR Aeroportos, part of the CCR Group. The meeting in their "War room" was very productive and gave a lot of food for thought. That evening there was a networking dinner hosted by the Dutch Embassy in Brasilia.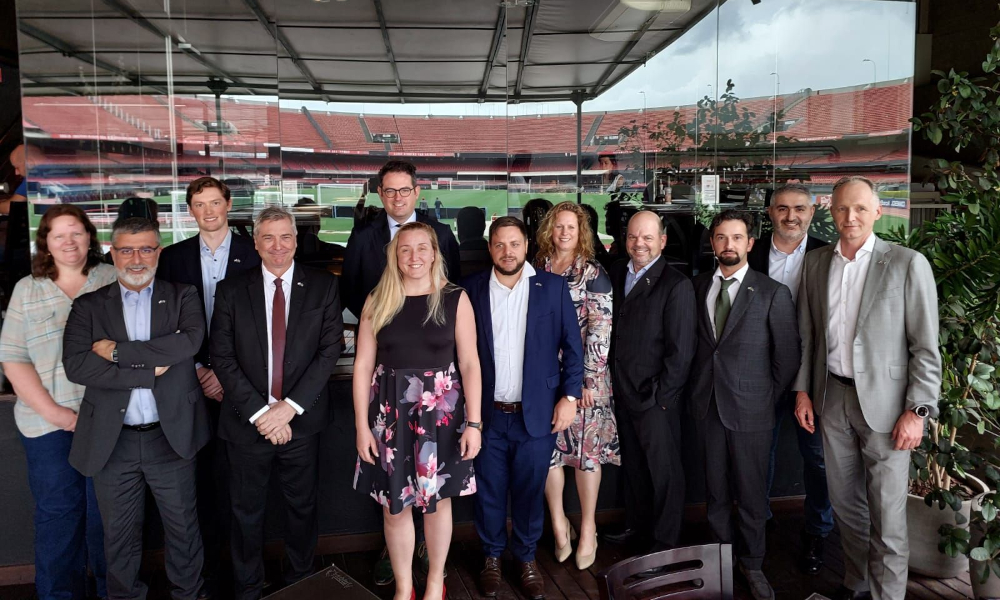 On Wednesday, the group left early for a visit to Campinas Viracopos Airport, the second airport of São Paulo. Hosted by the director of operations, these meetings were very productive as the group broke off into focused parts to deep dive together with the local partners on the diverse challenges faced by the airport. Following this visit, part of the group continued to Gol Airlines to touch base on the opportunities and challenges of eVTOL transport in the São Paulo region.
On Thursday we flew to Recife to meet with AENA Brasil and AENA Nordeste. The presentations and the challenges faced by the AENA Group for the new airports under concession as of this year, presented opportunities for further collaboration and meetings.
The mission ended on Friday with a gathering hosted by the Consul General of São Paulo, Wieneke Vullings, where this mission met with the parallel Innovation Mission. It provided a great opportunity for the companies and knowledge institutes participating in both missions to have an exchange of ideas and lessons learned.
The PIB SIAD is working on the programme for this year with the intend to visit Brazil again after the summer and invite interested partners and potential partners from Brazil to visit the Netherlands in October in the run up to the Inter Airport in Munich. If you are interested in joining the programme, please contact Liselotte Zoetmulder.